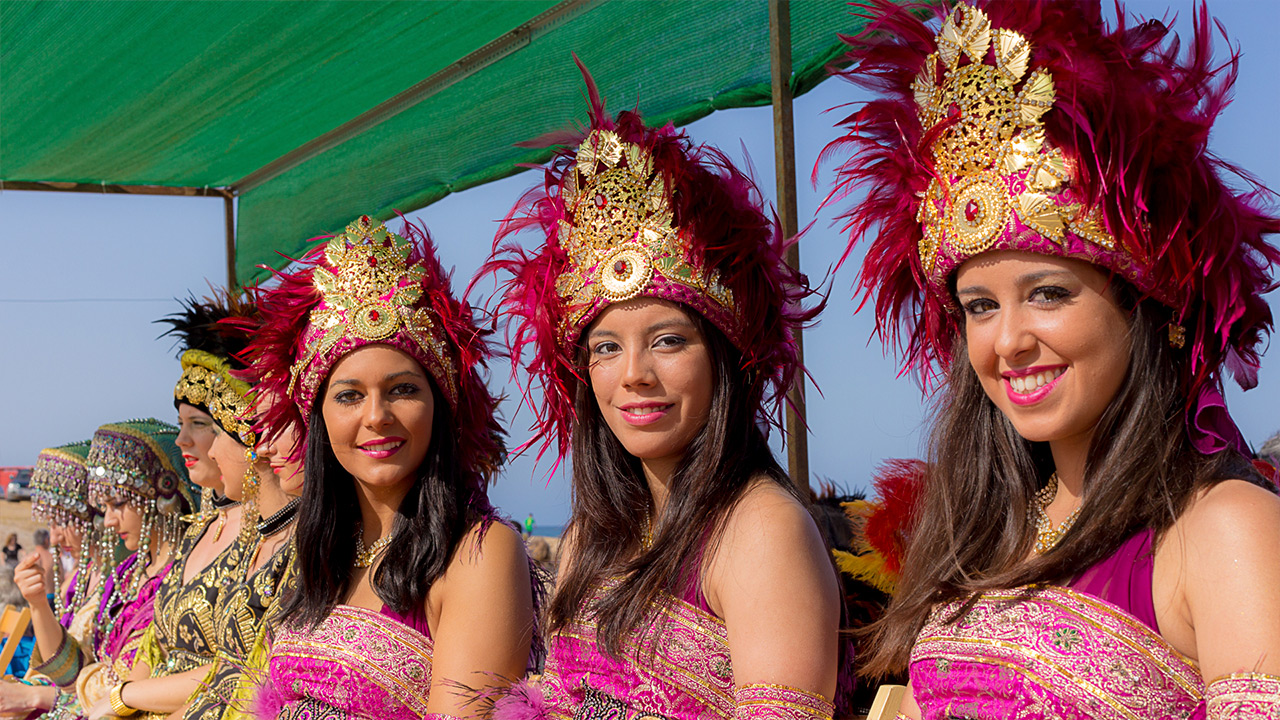 Moors and Christians Mojácar.
2019 MOORS AND CHRISTIANS FIESTA PROGRAMME
CONCERT OF MOORS & CHRISTIAN´S MARCHING MUSIC PERFORMED BY THE MOJACAR MUNICIPAL BAND.
Director: Miguel Angel Miranda Sevillana
SATURDAY, JUNE 01
6:30 p.m. CENTRO DE USOS MULTIPLES DE MOJACAR
EDUCATIONAL WORKSHOPS
From June 10 to 14 Mojácar's Bartolomé Flores School will be running various activities and educational workshops related to the Moors and Christians Fiesta which will be adapted according to educational level and age.
Also to learn through workshops about; shields and masks, medieval costume making, theatre, creation of comparsa groups, music ….., which ends on Friday 14th June with a parade from the school up to the Plaza Nueva and afterwards the children´s speeches during the fiesta´s opening ceremony.
Overall, the aim of this educational project is to help the children understand and value of Mojácar's traditional fiestas, whilst keeping them keen to participate and preserve them.
MEDIEVAL MARKET
FRIDAY JUNE 14. FROM 12:00 NOON.
SATURDAY JUNE 15. FROM 11:00 A.M.
SUNDAY JUNE 16. FROM 11:00 A.M.
The MEDIEVAL MARKET opens at 12:00 Noon on Friday June 14 in the Plaza Nueva and Calle Glorieta in Mojácar Pueblo.
On their stalls, the merchants dressed in medieval attire will have all kinds of hand made products for sale.
This is a great opportunity to stroll through our streets and imagine the medieval times, whilst enjoying the breath-taking views from our village which is undoubtedly, unique throughout the Mediterranean.
COMMEMORATIONS AND HISTORICAL REPRESENTATIONS
FRIDAY JUNE 14.
9:30 p.m. Trabuqueros with their blunderbusses gather at the Centro de Usos Múltiples at La Fuente.
9:45 p.m. Troops assemble in La Fuente.
The Moorish King delivers the key to the Town to the Christian King.
10:30 p.m. LA FUENTE. The troops march noisily up to the Pueblo, announcing the presence of hostile troops in the vicinity. The comparsas with the largest number of members will go first, presided over by their respective captains, accompanied by music, fireworks and the sound of random gunfire.
11:00 p.m. PUEBLO. Entry of the troops into the Town, followed by the traditional PREGÓN DE LAS FIESTAS read out by the junior and adult ambassadors, followed by fireworks.
11:45 p.m. PUEBLO. Opening of the various groups' Kábilas and Barracks presided over by their ambassadors, accompanied by live music and a party until dawn.
SATURDAY, JUNE 15.
5:00 p.m. Trabuqueros gather at Playa Del Lance, in front of the Pueblo Indalo.
6:00 p.m. PLAYA DEL LANCE: Horse Riding and dressage exhibition. Moorish and Christian troops are engaged with shots from the sea and land. Medieval Tournament where Moors and Christian knights try to get the largest number of handkerchiefs, worn by ladies on both sides.
Finally, the troops march from Chiringuito Ankara to the Red Cross with dancing and a fire show.
10:00 p.m. PUEBLO. The Kábilas and Barracks re-open, presided over by their ambassadors, accompanied by live music and a party until dawn.
SUNDAY, JUNE 16.
12:00 noon ALONG THE SEAFRONT. Bands of Moorish and Christian Trabuqueros from Playa de las Ventanicas.
6:30 p.m. PUEBLO. SPECTACULAR MOORS AND CHRISTIANS PARADE, WITH FULL GALA AND MILITARY COSTUMES, ACCOMPANIED BY NUMEROUS BANDS, POMP AND CEREMONY.
ORDER OF THE PARADE:
CHRISTIAN GROUP: 1ST TEMPLARIOS, 2ND BANDOLEROS 3RD CISNEROS (CAPTAIN)
MOORISH GROUP: 1ST MORISCO ALI OLE 2ND ALJAMA MUDEJAR 3RD MOROS VIEJOS 4TH TUAREG MOXACAR (CAPTAIN)